Quality Roofers and Roofing Companies
on October 13, 2016
No Comments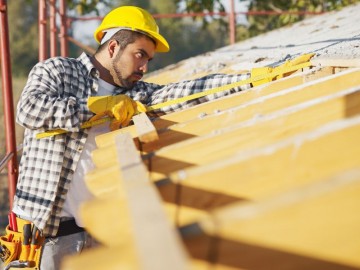 When your roof has fallen into disrepair or has been recently damaged, you need a quality roofer that will do the job at an affordable price. Replacing a roof is one of the largest investments that a homeowner will make. Therefore, you want to hire a roofing company that you can trust to get the job done right the first time. If you need to have your roof replaced, it is important that you know what to look for in a quality roof repair specialist.
Licenses are a Requirement
In practically every state in the country, a residential roofing contractor is required to carry some type of license. Prior to hiring a contractor to replace your roof, you will want to make certain that they have the proper licensing and all certifications are up to date.
You can verify such information by contacting the licensing agency in your area. If there are any complaints against the contractor on record, you need to find out whether the complaints were resolved in an acceptable way.
Insured for Your Protection
A quality roofer or roofing company will typically have two types of coverage, which are liability insurance and workers compensation. If an employee is injured doing work on your property, workers compensation will pay the medical expenses.
Unfortunately, some contractors feel that carrying the proper insurance is too expensive and choose to forego coverage. If the contractor you are considering does not have workers compensations insurance, you may be ruled responsible for any injuries that happen on your property.
The liability insurance will pay for any damages to your property that occur during the roof replacement job. It is vital that the roofing contractor that you hire has proper liability coverage. That way, if damage to your home does occur, you will not be responsible for the costs. Request a copy of the contractor's insurance certificate in order to ensure the coverage is valid and up to date.
Proof is in the Past
You should make it a point to seek out roofing contractors that have an established history of producing quality work. You should not take the risk of hiring a contractor that has been in the business no more than a couple of months. The reason for this is that it can be quite difficult to determine the quality of the work of a roofer without necessary experience in the field.